Iran is trying to develop its nuclear program

The construction site is located north-west of the underground facility at Fordo, built deep inside a mountain.
Iran has begun construction on a new underground nuclear facility near the Fordo uranium enrichment plant, near the town of Qom. It was reported by the Associated Press on Friday, December 18, citing satellite images obtained.
It is indicated that construction began in September this year. The purpose of the new facility is not yet clear. A satellite image from December 11 shows the excavated foundation for the building with dozens of pillars. The agency believes that such poles could be used in the construction of buildings in earthquake-prone zones.
"The construction site is to the north-west of the underground Fordo structure, which was built deep inside the mountain to protect it from possible airstrikes. The facility is adjacent to other auxiliary and research buildings at Fordow," it said.
The Iranian mission to the UN and the IAEA also reportedly did not comment on the information.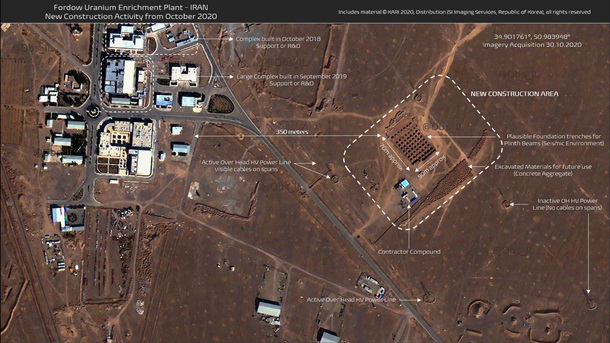 U.S. Navy considers Russia and China to pose the most significant threats