Russia's Federation Council unanimously passed an address to international parliamentary groups denouncing the US missile attack on the Shayrat Airbase in Syria and calling on the international community to assess Washington's actions.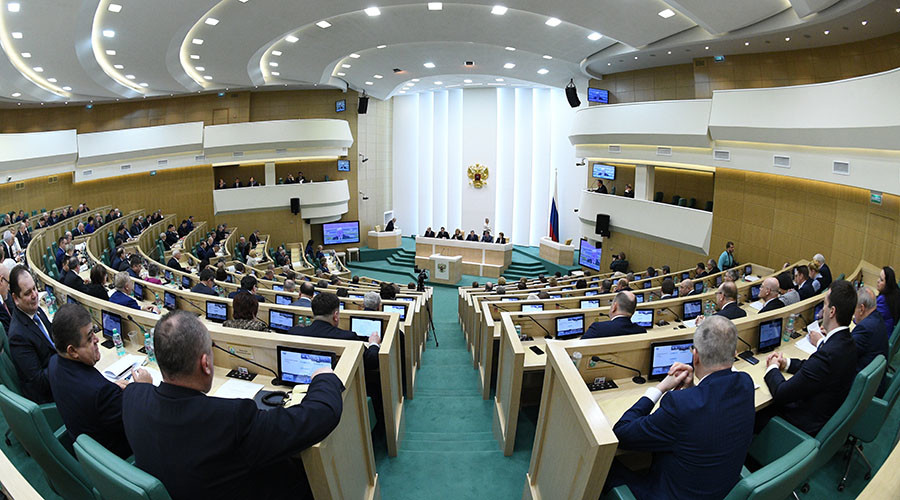 "At the moment when the United States delivered its missile strike there was not a single independent and unbiased conclusion about the real circumstances of the events that were used as an excuse for this, or about persons that must be held responsible for this," reads the Russian senators' address, referring to an alleged chemical weapons release in Idlib province, Syria.
"At the same time, according to the Organization for the Prohibition of Chemical Weapons, the Syrian Armed Forces currently have no supplies of chemical weapons."
Head of the Committee for International Relations Konstantin Kosachev commented that the reported chemical attack in Idlib, which prompted President Donald Trump to order the missile attack, could be anything "down to a staged show," and any conclusions about anyone's involvement in these gruesome events must be made after thorough investigation.
"The cover-up of the United States' aggressive activities by the Western part of the international community and their loyal satellites is just an attempt to use collective responsibility for removing oneself from the field of the international law and securing the implementation of one's own geopolitical strategies," Kosachev told Russian senators. "Leaders in Washington replace one another, but their methods remain unchanged."
The Federation Council also called upon the parliaments of all nations to "resolutely denounce the unlawful actions of the United States against a sovereign country – the Syrian Arab Republic – and to support the effort that leads to the conflict settlement on the basis of resolutions issued by the UN Security Council."
After the senators unanimously voted to pass the address, Speaker Valentina Matviyenko said that the document would be forwarded to foreign parliaments and international inter-parliamentary bodies in the nearest future.
Tags: airstrikes; Russia; senators; Syria; USA