Millions of Dutch voters headed to the polls on Wednesday to elect a new government, as the rest of Europe watches anxiously to see whether the far-right populist Party for Freedom will become the largest in the Netherlands.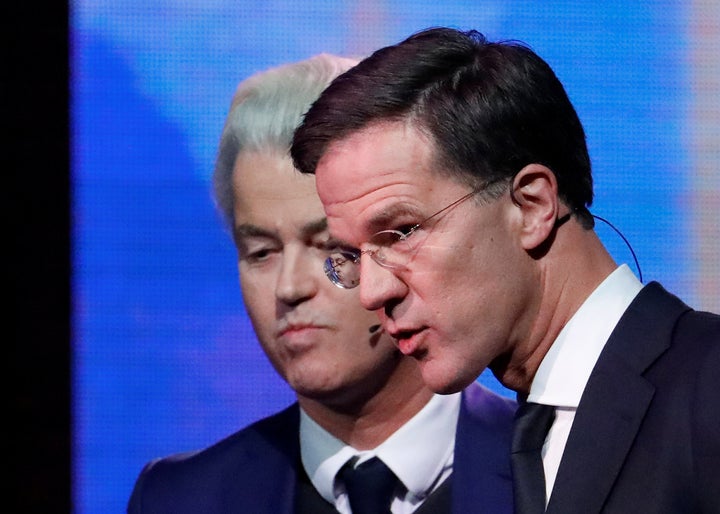 Voting in the Dutch national election started at 7:30 a.m. Wednesday and, according to the public broadcaster NOS, turnout was on pace to be slightly higher than in previous elections. Among the first to arrive were the often-tense election's two key figures, Dutch Prime Minister Mark Rutte and Geert Wilders, the flamboyant far-right leader known for his anti-Islam and anti-immigration rhetoric. 
"I feel very optimistic," Wilders told the Daily Express. "We want to take out country back."
Wendy de Graaf said that she was voting for Wilders because, although "I don't agree with everything he says… I feel that immigration is a problem."
Rutte, who voted at the elementary school he once attended, told reporters that he voted for Defense Minister Jeanine Hennis-Plasschaert.
Hours before polls opened, candidates sparred in one last televised debate on Tuesday night. In one fiery moment, Labour leader Lodewijk Asscher chastised Wilders as "10,000 angry tweets and no solutions." Wilders told Asscher that "the Netherlands is not for everyone, the Netherlands is for the Dutch. And your party makes our own Dutch people feel not at home."
Opinion polls have been dominated for months by Wilders, who was convicted late last year of inciting hatred against immigrants. A staple of the Dutch political landscape for decades, Wilders promised voters to "make the Netherlands ours again" by restricting immigration, "de-Islamizing" the country and withdrawing from the European Union.
"We will be in charge of our own country. We will have the key to our own front door again," Wilders said of leaving the EU during a televised debate Monday.
Despite Wilders' still significant support, the race has tightened in recent weeks. A day before the vote, it was set to be a tight competition between Wilders' Party for Freedom and current Prime Minister Mark Rutte's People's Party for Freedom and Democracy (VVD). Polls on Tuesday predicted Rutte would take home 24 to 28 of parliament's 150 seats, while Wilders was set to win 19 to 22.
Around half of the country's voters were still undecided at the beginning of the week, however, and as a diplomatic spat between the Netherlands and Turkey heated up over the weekend, it remained unclear Wednesday morning who would garner the largest share of seats.
Rutte made his case again Monday, reminding voters during the penultimate debate that the country has a growing economy and criticizing Wilders' single-page political program for containing few solutions. Wilders argued his platform in typical fashion, attacking the ruling party in an appeal to voters who fear immigrants threaten the Dutch welfare system.
"If you want to put our country up for sale and ensure that our money goes to asylum seekers, Brussels and Africa instead of our own people, vote for the VVD," Wilders told viewers. 
Tags: Dutch elections; Geert Wilders; Mark Rutte; the Netherlands