A huge crowd turned out at Legislative Plaza on Saturday to attend the Spirit of America rally in support of President Trump's policies.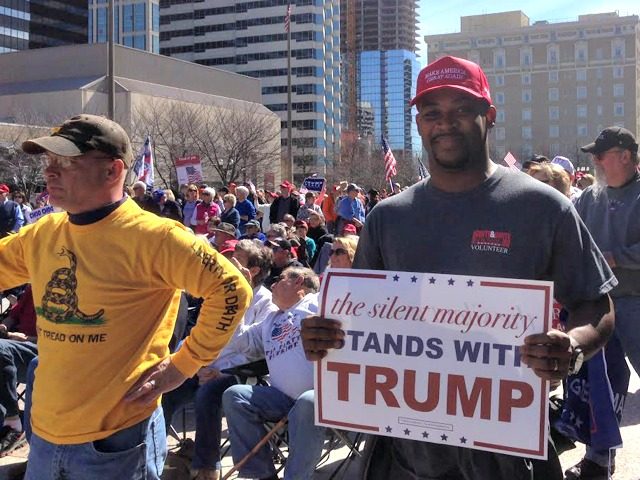 Rally organizer Mark Skoda told Breitbart News that the crowd size was estimated at 2,000, a number that was also  reported and tweeted out by a number of people who were in attendance.
Several dozen Spirit of America rallies were held across the country on Saturday. Nashville appears to have held the largest rally.
The legacy of Andrew Breitbart was front and center at the boisterous and upbeat event, which Nashville entertainer Ty Williams kicked off with a crowd-pleasing rendition of his new song, appropriately titled, "Make America Great Again."
Skoda told the crowd that he befriended Andrew Breitbart and Gateway Pundit founder Jim Hoft, one of the rally's speakers, back in 2010 at the first Tea Party Convention held at the Gaylord Convention Center in Nashville.
In his speech, Hoft paid tribute to his good friend Andrew Breitbart, who died in 2012, as a key ally and inspiration whose vision helped him withstand the many attacks launched by the left as the Gateway Pundit broke story after story during the 2016 Presidential election.
Rally organizer Skoda opened the event at 11 a.m. by announcing that the rally was designed for peaceful expression, and that anyone not interested in abiding by that standard should leave the event.
A plethora of conservative legislators and activists spoke for the next two hours, and the crowd maintained its enthusiasm throughout.
A small group of about a dozen protesters, many dressed in black, some wearing masks, attempted to disrupt the event, to little effect.
Dozens of Tennessee State Troopers were on hand to provide security for the crowd and the four members of the Tennessee General Assembly who attended the rally. State Rep. Terri Lynn Weaver dazzled the crowd with a stirring acapella rendition of The Star Spangled Banner. State Rep. Judd Matheny, Majority Leader State Rep. Glen Casada, and State Senator Mae Beavers were among the featured speakers.
Two arrests of left wing agitators were made.
One woman stole merchandise from one of the vendors selling Trump T-shirts. Though she ran away from the scene of the crime, she was apprehended and charged.
Another protester vandalized the motorcycles parked near the stage by a group of bikers who support President Trump. That protester was taken to the ground by law enforcement officials before he was able to do much damage, and was also arrested.
Tags: Gateway Pundit; Mark Skoda; Ralph Bristol; Spirit of America rally in Nashville; Steve Gill; White House Correspondents Dinner