President Donald J. Trump told Breitbart News in an exclusive Oval Office interview that the "intent" of the New York Times in its negative coverage of him is "so evil and so bad" and that "they write lies."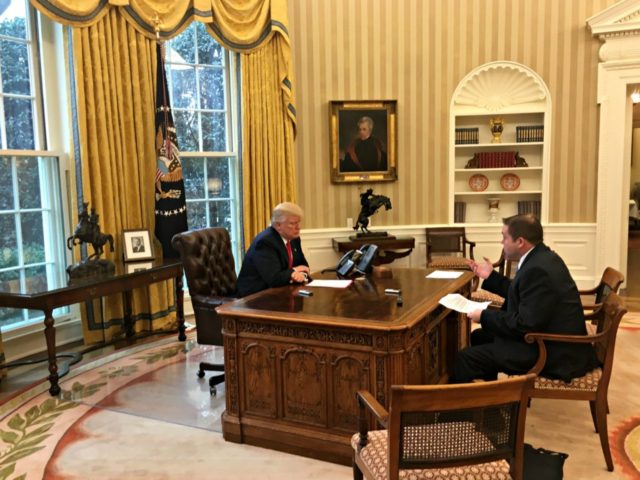 "If you read the New York Times, if you read the New York Times, it's—the intent is so evil and so bad," President Trump said in the interview on Monday afternoon. "The stories are wrong in many cases, but it's the overall intent. Look at that paper over the last two years. In fact, they had to write a letter of essentially apology to their subscribers because they got the election so wrong."
He went on to say about the newspaper that "they write lies."
Trump's comments came in a discussion about the media generally, in a part of the exclusive Oval Office interview focused on "fake news" and "fake media" versus journalists who are trying to get it right. The president specifically praised this reporter, and Steve Holland of Reuters, as two examples of journalists who do try to accurately report the news—and made a distinction between "fake" media and the media as a whole.
Trump said that the "fake" media has made a concerted effort to conflate his distinction between "fake media" and the media generally, and that "there's a difference" between the two. He said that his comments about the "opposition party" and the "enemy of the American people" were specifically about the "fake media," not the media as a whole. This is a point that the president made in his speech to the Conservative Political Action Conference (CPAC) hosted by the American Conservative Union (ACU) last Friday in National Harbor, Maryland, just outside Washington, D.C. Hope Hicks, the director of Strategic Communications at the White House, joined in part of the conversation with the president.
The president also specifically singled out the New York Times for one embarrassing and egregious error the newspaper made during the course of the campaign, when it posted an article—and printed it on the front page—containing allegations from several women against him. The piece, by Michael Barbaro and Megan Twohey, was actually challenged by women quoted therein, prompting even the vehemently anti-Trump CNN to question the authenticity of the Times' reporting, with CNN's Kate Bolduan saying the piece was "concerning" to her "as a journalist."
President Trump also declined to comment specifically on the looming AT&T-Time Warner potential merger, a deal that would boost CNN's parent company significantly, but did say generally speaking he believes there should be "competition in the marketplace"— especially in the media industry.
Tags: Fake Media; fake news; New York Times