Jonathan Greenblatt, the National Director and CEO of the Anti-Defamation League (ADL), has come out forcefully against President Donald Trump's temporary halt on refugees while the government revamps its flawed security screening process, calling the executive action a "heartless attack on refugees."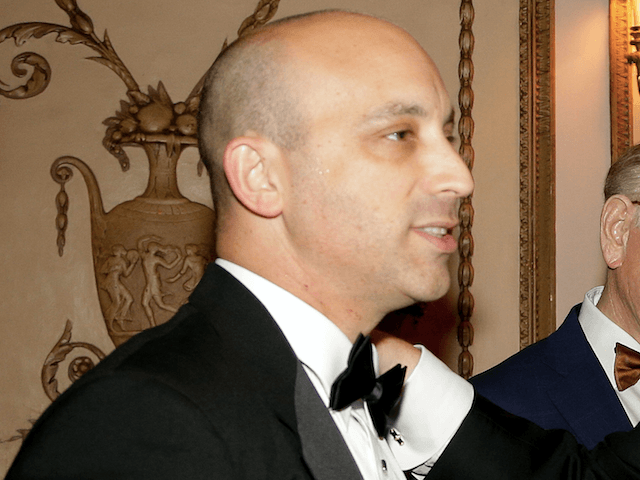 Breitbart reported in November that Greenblatt previously directed an initiative at a George Soros-financed far-left institute. He worked for the Obama administration just prior to joining the ADL.
Trump's executive order halts visas for 90 days for "immigrants and non-immigrants" from Syria, Somalia, Sudan, Libya, Yemen, Iran, and Iraq. The order further suspended the entry of all refugees for 120 days, indefinitely blocked Syrian refugees from entering and lowered the ceiling to 50,000 for refugees allowed to enter the U.S. during Fiscal Year 2017.
Greenblatt on Sunday penned an opinion piece for Israel's Haaretz newspaper titled, "History Will Frown on Trump's Heartless Attack on Refugees."
He opined:
History will look back on this as a sad week in the United States — as the week that the president turned his back on people fleeing for their lives, in defiance of a proud promise indelibly inscribed on the Statue of Liberty that America will provide safe harbor to the world's "huddled masses yearning to breathe free." …

We must stand up to remind the Trump Administration and the world – once we were strangers, too. And we must do better.

Greenblatt served as Director of the White House Office of Social Innovation and Civic Participation until being appointed to head the ADL in November 2014.

In his Haaretz piece, Greenblatt failed to mention that Obama's State Department in 2011 reportedly imposed a six month freeze on the processing of Iraqi refugees. The halt was the result of the discovery of two al-Qaeda members admitted as refugees from Iraq who were living in Bowling Green, Kentucky and admitted to targeting U.S. troops in Iraq.

The Washington Examiner found five other instances of Obama temporarily banning immigrants over national security concerns.  Greenblatt did not mention those either.

Like Trump, Obama utilized section 212(f) of the Immigration and Nationality Act of 1952 to legally justify the ban.

The clause states:

Whenever the president finds that the entry of aliens or of any class of aliens into the United States would be detrimental to the interests of the United States, the president may, by proclamation, and for such period as he shall deem necessary, suspend the entry of all aliens or any class of aliens as immigrants or non-immigrants or impose on the entry of aliens any restrictions he may deem to be appropriate.

On Saturday, Breitbart Jerusalem reported that lawyers from groups financed by Soros, a champion of open border policies, were signatories to a lawsuit filed Saturday to block the order.

In response to the lawsuit, U.S. District Judge Ann Donnelly issued an emergency orderthat temporarily blocks U.S. authorities from deporting those from the nations listed in Trump's executive order.

Over the last decade, Soros has reportedly provided some $76 million for immigrant issues.

In 2014, the New York Times credited "immigrant rights groups" financed by Soros and a handful of other donors for influencing President Obama's immigration policy.

In August, Breitbart Jerusalem first reported hacked documents from Soros' Open Society Institute boasted that the billionaire and his foundation helped to successfully press the Obama administration into increasing to 100,000 the total number of refugees taken in by the U.S. annually.

The documents revealed that the billionaire personally sent President Obama a letter on the issue of accepting refugees.

In November, this journalist first reported on Greenblatt's ties to Soros.

Here is a review of those details:

Until his appointment as head of Obama's Office of Social Innovation and Civic Participation, Greenblatt served as Director of the Impact Economy Initiative at the George Soros-funded Aspen Institute.

Curiously, that role is not mentioned in Greenblatt's ADL bio, which simply states that he is "a member of the 2006 class of Henry Crown Fellows at the Aspen Institute."  The Fellowship describes itself as seeking to "develop the next generation of community-spirited leaders, providing them with the tools necessary to meet the challenges of business and civic leadership in the 21st century."

Besides funding from Soros, Aspen has hosted Soros on numerous occasions, including one reportedly clandestine summit aimed at devising a strategy to defeat George W. Bush in the 2004 election.

The Aspen Institute's official mission statement is nondescript. It says the organization seeks to:

Spark intellectual inquiry and exchange, connecting new concepts to timeless values.

Create a diverse worldwide community of leaders committed to the greater good.

Provide a nonpartisan forum for reaching solutions on vital public policy issues.

Like Aspen's generalized mission statement, Greenblatt described what he meant by "Impact Economy," the namesake of the Aspen division that he directed, in general terms. He stated in a 2011 interview that "Impact Economy" focuses on "national competitiveness, social impact and environmental benefit … a phenomenon that encompasses a wide range of sectors including community enterprises and clean tech as well as new fields such as affordable living and ethical brands."

Discover the Networks reports on Aspen's mission thusly:

Encompassing a broad range of issues, many of AI's policy-work programs are rooted in the belief that the United States is a nation whose history amounts largely to an unbroken narrative of injustice; that government intervention frequently represents the best remedy for social and economic problems; and that America's deep-seated "structural racism," while "harder to see than its previous incarnations," is just as likely as its forerunner to "perpetuate racial group inequity."

Indeed, the term "structural racism" is a major theme on Aspen's website. It has been the theme of numerous Aspen publications and events. A closer look may help explain Greenblatt's institutional background at Aspen as it relates to his perspective on issues of racism.

Aspen defines "structural racism," which it contends continues to impact the U.S., as:

A system in which public policies, institutional practices, cultural representations, and other norms work in various, often reinforcing ways to perpetuate racial group inequity. It identifies dimensions of our history and culture that have allowed privileges associated with "whiteness" and disadvantages associated with "color" to endure and adapt over time. Structural racism is not something that a few people or institutions choose to practice. Instead it has been a feature of the social, economic and political systems in which we all exist.

An Aspen blog post regarding the Institute's "Roundtable on Community Change" contends:

From both historical and contemporary standpoints, whites have possessed advantages in all of the principal opportunity domains for a long time, including education, employment, housing, health care, political representation, and media influence. It has accumulated into an understanding among whites (and perhaps others) that "whiteness is the 'default setting' for race in America" and that it is the "assumed color" of our nation.

Aspen's roundtable suggested the use of a "structural racism lens" to understand the following concepts:

The racial legacy of our past.

How racism persists in our national policies, institutional practices, and cultural representations.

How racism is transmitted and either amplified or mitigated through public, private, and community institutions.

How individuals internalize and respond to racialized structures.

The roundtable concluded it is "important to challenge the American ideals of equal opportunity and meritocracy by considering the following":

The notion of the "fairness of the system."

Consider where we, as individuals, fit into and help sustain structural racism, especially in the media and popular culture.

Reflect on the role that social service, community development, or philanthropic organizations play in the maintenance of racial inequity.

Soros' Open Society Foundations has provided numerous grants to the Aspen Institute totaling at least $515,000.

In August 2004, Soros reportedly attended "a clandestine summit meeting" that "took place at the Aspen Institute, in Colorado's Rocky Mountains. The participants, all Democrats, were sworn to secrecy" and, according to the New Yorker, included Soros and four other billionaires who "shared a common goal: to use their fortunes to engineer the defeat of President George W. Bush in the 2004 election."