At least three police officers have been injured and 95 protesters arrested after they smashed windows, damaged cars and threw rocks at police near Donald Trump's inauguration ceremony on Friday in Washington, D.C.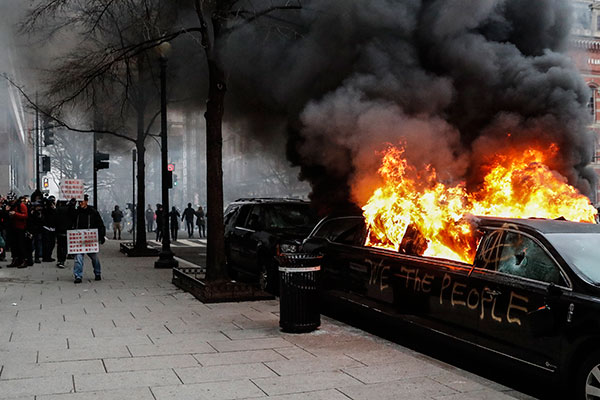 Police used smoke and pepper grenades as well as small flash bang bombs as they tried to retake certain streets in northwest Washington Friday afternoon. So far, the inaugural parade and the new president and vice president have been untouched by the violence blocks away.
Protesters "acting in a concerted effort engaged in acts of vandalism and several instances of destruction of property," the police said in a statement. "More specifically, the group damaged vehicles, destroyed the property of multiple businesses, and ignited smaller isolated fires while armed with crowbars, hammers, and asps.
A Bank of America and a Starbucks were vandalized; broken windows and cars damaged seen on news video and social media posts. Some of the violent protesters covered their faces and wore dark clothes in the style of the black block anarchist group that caused a ruckus in Chicago during the 2012 NATO Summit.
Rioters smashing @Starbucks and @BankofAmerica windows @nbcwashington @cnnireport pic.twitter.com/VeXqGF5t5q

— Josh Clothiaux (@jclothiaux11) January 20, 2017
A limousine was seen on fire as a fairly small group of violent protesters continue clashing with D.C. Metro police. Officers in riot gear appear to outnumber the protesters at locations of violence.
There also were anti-Trump protests around the world, including in London, Hong Kong and Berlin – where demonstrators held a sign that read, "Walls divide." In the West Bank, Palestinians protested against Israeli settlements and Trump's plan to move the US Embassy to Jerusalem from Tel Aviv.