Troops from the North Carolina National Guard arrived in Charlotte early Thursday morning.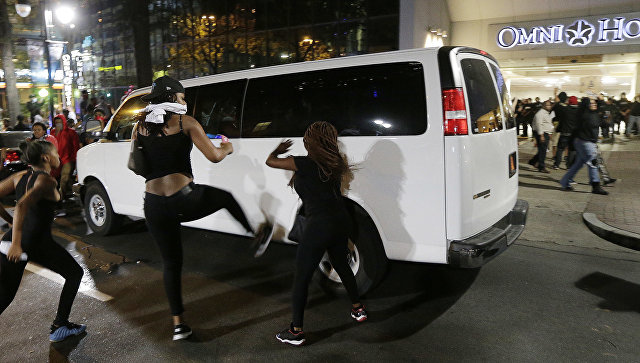 Governor Pat McCrory declared a State of Emergency to initiate efforts to deploy the North Carolina National Guard after protests turned into violence in uptown Charlotte Wednesday night. 
Protests continue in Charlotte; patients being denied cheap drug that could prevent 10% breast cancer deaths https://t.co/qdKPaCJlxx

— Sky News (@SkyNews) 22 сентября 2016 г.
Protests initially started as peaceful before shots rang out near the Omni and Ritz-Carlton hotels. The person shot is currently in critical condition on life support, two others were hospitalized and four police officers were taken to area hospitals. 
An organized protest began at Marshall Park at 7 p.m., with hundreds of people gathered peacefully with chants of "No justice, no peace" and "black lives matter." The protests were in response to the police shooting and killing of 43-year-old Keith Scott in northeast Charlotte Tuesday.
By 8 p.m., protesters made their way to CMPD headquarters, where a large group removed an American flag from the front of the building. Just minutes earlier, a CMPD source confirmed to NBC Charlotte that a witness' photo from the shooting scene showed what investigators are calling the gun Scott had in his possession at the time of his shooting.
About a half-hour later, the situation in uptown became more intense, with protesters throwing tables and chairs from the upper levels of the Epicentre. Moments later, loud bangs rang out as protesters sprinted from the Omni Hotel, telling NBC Charlotte's Ty Chandler that a person was shot in front of the hotel. 
The shooting was confirmed to have occurred near the Ritz-Carlton to NBC Charlotte's Michelle Boudin. A hotel employee confirmed that the outside doors of the hotel have been locked and the restaurant BLT Steak is using furniture to barricade windows.